SAP Customer Checkout
SAP Customer Checkout is a Point-Of-Sale (POS) solution for Retail, Quick Service and Hospitality.
With native integration with the SAP Business One ERP.
If you sell stuff through a POS, this solution is for you!
Three Interfaces

, One Solution 🛒

If you are using or planning to use the SAP Business One ERP, the SAP Customer Checkout POS is natively integrated and is a total no brainer.

It has 3 specific user interfaces (UIs). One for

Retail

, another for

Quick Service

and yet another one for

Table Service

. You may choose the one that better adapts to your business needs:
Retail Service: Shops and Retailers
Quick Service: Kiosks and Franchisings
Table Service: Restaurants and Hospitality
This is an extremely robust system capable of dealing with high data volumes. As an example of that SAP Customer Checkout was the POS solution used on Expo Dubai 2022 and it's also currently used in the Allianz Arena, home to the renowned Bayern Munich football club.
Our customers Gleba and Lusoalimentos (retail) are already successfully using this POS solution with improved productivity and sales.
See examples of each specific interface in the images below: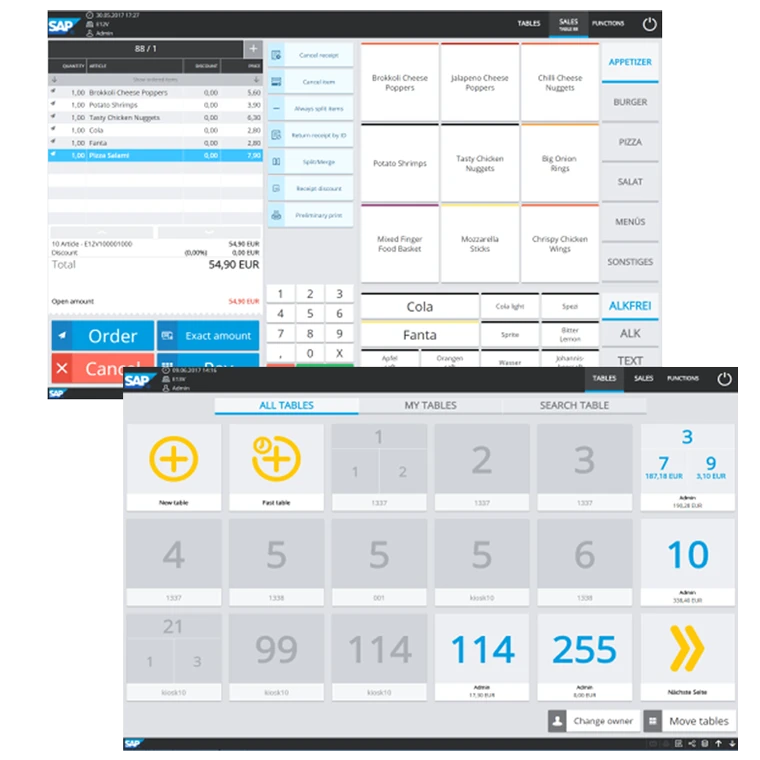 Multiple POS's?
Not a problem with
SAP Customer Checkout Manager

📈
SAP Customer Checkout Manager (CCM) is a central point-of-sale management solution that allows you to manage all your POS's configurations in one system.
Create all the master data that you need as a standalone system or integrate it with your ERP. It can also be integrated with dedicated analytics tools like SAP Analytics Cloud.
Some of SAP Customer Checkout Manager's key features are:
Central POS configuration for Article Groups, Currencies, Tax Rates, Sales Screens and more
Create master data like Articles, Business Partners, Price lists and more
Syncing master data from your existing ERP
Create centrally POS users and assign them to different POS systems
Assign specific price lists, UI modes and language user interfaces for each user
Configure your sales screens centrally and assign them to the desired POS systems
Ability to see all posted receipts from various POS systems
Track customer's purchase history
Real-time insights and sales reporting data
Download all sales reports as a .csv file
Manage coupons centrally
Loyalty management features such as coupons, gift cards, loyalty points and loyalty reports to track top customers
Manage business partners and loyalty users
Mobile order configuration
Generation of sales reports to track the best and worst shops, revenue payment methods and more
Selling has never been so easy 🤑
SAP Customer Checkout
Official Presentation
Download the pdf by clicking here.
The only POS system you'll ever need.
That's a promise 🤝🏻.
SAP Customer Checkout
Success Stories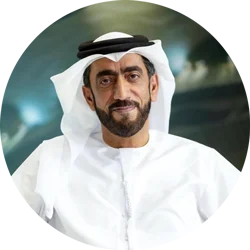 Mohamad Al Hashmi
Chief Technical Officer – Expo Dubai 2020
"Expo 2020 is committed to showcasing the best innovations and cutting-edge technologies, and SAP Customer Checkout solution will provide Expo 2020 Dubai retailers and their customers with new levels of safety, efficiency, and customer service, offering an enhanced experience for our participants and visitors."
---
The first ever Expo in the Middle East happened from the 1st of October 2021 to the 31st of March 2022
Expo Dubai was the 35th and biggest World Expo to date and had as its motto/purpose 'Connecting Minds, Creating the Future'.
It featured the sub-themes of Opportunity, Mobility and Sustainability with more than 600 participants (from businesses to nations), from more than 46 countries.
Despite the one year postponement due to the pandemic and the conflicts around the world, the Expo was made possible thanks to the resilience and union of everyone involved, including more than 30.000 volunteers.
In its 182 days of unforgettable experiences it had more than 24 million worldwide visitors (24.102.967 to be precise) and it welcomed 192 countries.
SAP was an official Premier Partner of Expo Dubai 2022. With more than 90 million receipts generated within 6 months, the Expo was powered by more than 1.200 point-of-sale systems running SAP Customer Checkout.
That meant that every single international pavilion, restaurant, food outlet and kiosk ran with the SAP Customer Checkout software solution.
Expo Dubai 2022 wanted to show the world that by coming together everything is possible.
For example on sustainability, the Terra pavilion achieved to be 100% energy and water net-zero/self-sustainable – in the middle of the desert.
That shows that sustainability is achievable anywhere.
From a small business to the scale of Expo Dubai, SAP Customer Checkout is the right solution ⭐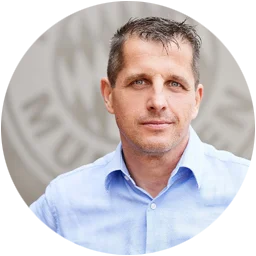 Michael Fichtner
Chief Information Officer – FC Bayern München AG
"With access to real-time stock monitoring and user-friendly touch screens for order entry, we can deliver optimal service at each kiosk. And because SAP Customer Checkout is hardware agnostic, we have unlimited options for further innovation at Allianz Arena."
---
12.000 kgs of snacks and 40.000 liters of beverage sold to fans during the breaks at Allianz Arena
Allianz Arena is the home of the Bayern Munich football club and an average of 75.000 fans watch each Bundesliga game.
Keeping the crowd provisioned with food, drinks and merchandising requires extreme efficiency in the catering kiosks with 1.300 employees processing an average of 16.000 transactions during breaks.
Bayern Munich implemented an easy to use digital POS software that acts as the front-end of a robust stocks management system that replaced 250 cash registers.
SAP Customer Checkout allowed Bayern Munich to:
Advance its digital transformation with an intelligent point-of-sales solution that eliminates manual steps
Integrate the new functions smoothly with back-end systems to protect investments and increase efficiency
Implement cashless payment by establishing direct connections between order screens and payment terminals
Future-proof the solution by boosting flexibility through optional plug-ins
Customize the sales user interface to meet the club's high brand standards
Determine the proper pregame distribution of goods among kiosks to avoid overstocking or understocking
Monitor sales in real time and react quickly to restock against projected halftime demand
Improve hospitality service so that fans can quickly return to their seats and enjoy the game to the fullest
Read the full success story in the official SAP document below:
Download the pdf by clicking here.